Optical fiber OSP network engineering services
FTTH network design & engineering services for the planning and building of OSP optical fiber networks
Use our (turn-key) OSP project experience!
Our FTTH/FTTx network design & planning services are the products of more than 25 years of experience in designing, engineering, planning, installing and commissioning communication networks by NKF (Nokia / Philips) and Draka (Prysmian Group) and their project offices with local staff. We created easy to use fibre network design & planning software tools featuring complex optimisation algorithms and completed FTTH projects all over the globe.
With years of practical design, engineering and planning experience in turn-key projects of all sizes, our knowhow of best-in-class materials and installation techniques allows us to develop proven FTTH software solutions for the design and planning of OSP FTTH/FTTx networks and offer fast and flexible engineering services. Automation and optimization of the network design process enables our customers to get future-proof Telecom networks up and running in no time, even when there are sudden changes in plans or customer requirements.
We provide FTTH engineering services for projects all over the world, offering high quality support, for attractive prices. We also support the design & engineering of FTTx, business parks, industrial complexes and more. Feel free to explore some of our reference case studies where we describe the process of designing several types of OSP FTTx networks: urban/rural, cadastral/google earth input data, and ring networks; or read our blog post for more information on developments in FTTH/FTTx design and FTTH planning software.
---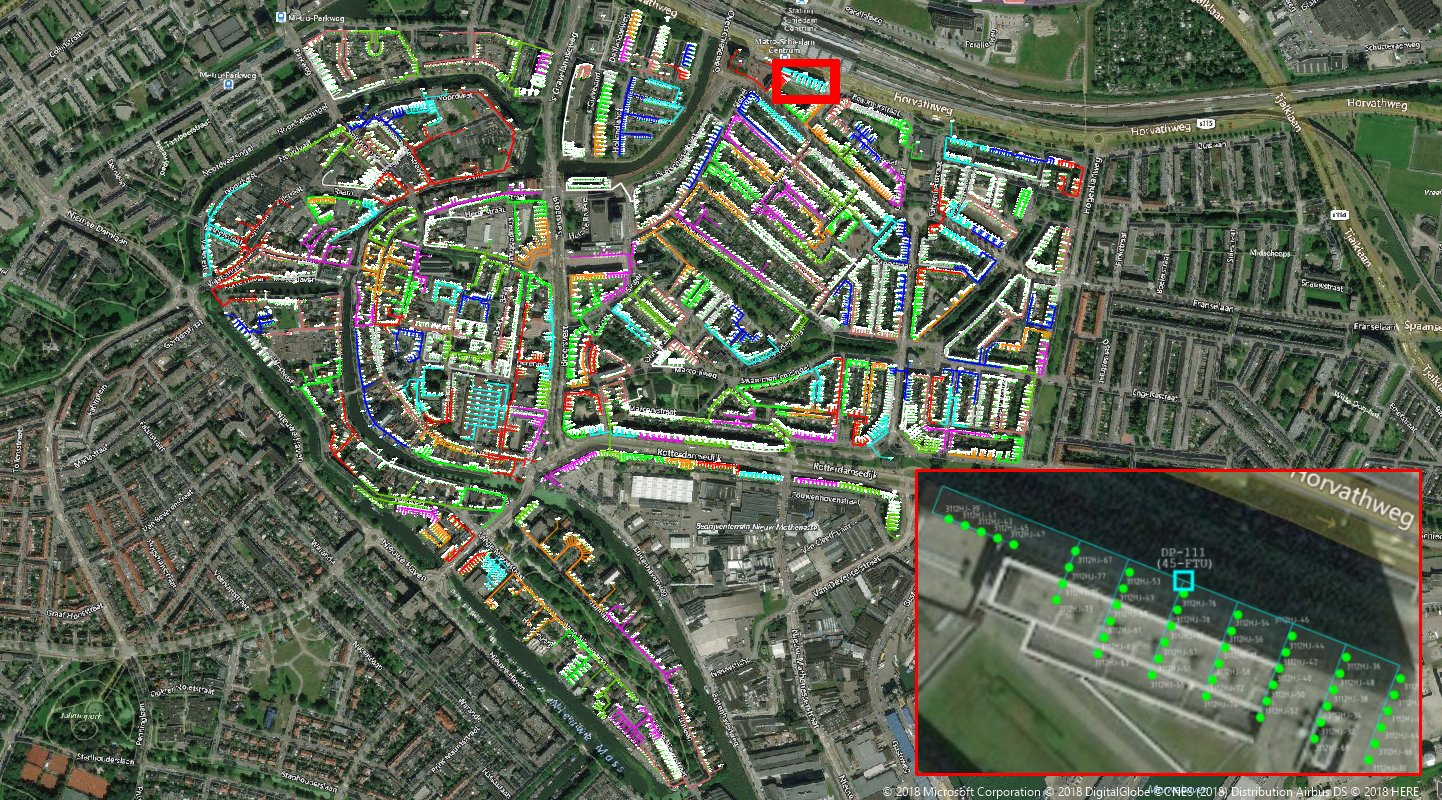 FTTH design of a city area, automatic network design of 9.983 FTU/homes with 248 distribution points.
---
Business case support Service
We offer a business case support service in which we help you select the most appropriate technology/network topology for your specific situation to create a solid business case. We have the software to design, engineer and build the FTTH network, right down to creating an accurate Bill of Materials (BoM).
Relying on ITSimplicity Solutions engineering services is a quick and easy way to build a solid business case for the topology and deployment options for your network and to be certain of investing in a robust, future-proof and cost efficient high-performance network.
High level and low level (Installer ready) FTTH/FTTx network design
By using our FTTH software solutions and experience in OSP FTTH/FTTx, both high and low level CAD designs (Autocad Map 3D) with initial estimations of BoQ, BoL and BoM can be made for attractive prices (contact us).
Using site survey findings, the initial estimations of BoQ, BoL and BoM can be enhanced as part of a detailed / low level design (issues such as the accessibility of existing ducts and poles will then be taken into account). The resulting designs in Autocad (Map3D) are installer ready. We provide the detailed network designs: duct-plans, drawings, cable-drawings and fiber schematics.
---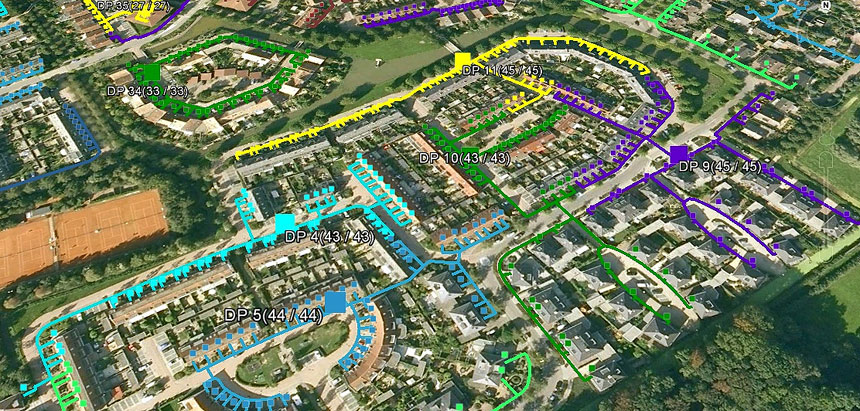 Aerial view of a FTTH network design.
---
FTTH SOFTWARE: OptimiZed software solutions
By automating, sequencing and simplifying components and processes, our design and FTTH planning software helps analyze and visualize scenarios easily and quickly for engineering both high level and detailed FTTH network designs.
This software is based on years of experience in turn-key Telecom projects and was originally created for in-house use in major Telecom companies. Our turn-key FTTH software tools are commercially available and have seen many successful FTTH/FTTx network launches. All software tools are dedicated and optimized for their purpose.
Visit our FTTH software page for more information or contact us.
A summary of our FTTH ENGINEERING SERVICES & OUTPUT:
Business case support with detailed costs & quantities

Network calculations & concept development

Designing of high-level networks with optimized network concept

Survey / walk-in & walk-out consultancy

Detailed, installer ready, cost optimized, low-level network-design creation. Including duct plans and drawings, cable schematics

Full engineering output: from data to map to optimized high level design to detailed low level network design. Including BoQ, BoL & BoM quantities reporting, detailed per: area, activity and network level, including fibre schematics.

Special FTTx project engineering

FTTH network solutions & engineering services for rural areas and local initiatives

Turn-key software solutions to: design, engineer, plan, build, document and commission FTTH and FTTX networks.
---
Output can include: Georeferenced plans (optical and civil), synoptical schemes, splicing schematics, cabinet connection tables, complete BOQ/BOM.
---
Consultancy:
With ITSimplicity Solutions (ITS) Engineering Services we offer a technology-independent FTTH/FTTx consulting engineering operation. We are available to work with communities, local authorities, and other organisations planning or constructing passive fibre network infrastructures and can assist with initial infrastructure assessments, including calculations on labour and material costs that help to build a convincing business case.
FTTH Project Engineering:
ITS's methodology uses digital area (GIS) maps and digital maps of existing infrastructures as input to its dedicated software technology that has been used to build networks for millions of connections. Following a local site survey, ITS will optimize the FTTH/FTTx network design to reduce construction time, improve efficiency, and deliver the best return on investment.
With our knowledge and expertise, we present more options for the diversity of FTTH communities engaging in their own construction. We are both vendor and technology neutral, using our expertise to design an FTTH/FTTx network that fits customer needs.
---
As project output we can also deliver fibre schematics and the Bill Of Material.
---
Our Project Vision and Methodology:
In our vision, each FTTH/FTTx network project is unique. Its characteristics depend on such factors as geography, the history of the market, national and local regulation, and more. Many of the variables involved are interconnected; improve one variable and you may compromise another. We can help navigate these waters through our in-depth understanding of the key considerations, best practices in making smart technology choices, and mixing standard cabling products and proven experience with real-world fibre installations.
ITSimplicity Solutions can advise about the best passive FTTH/FTTx OSP network solutions for a certain area, village, town. We look at the big picture, the whole project, the total costs of installation, civil works and optical fiber network materials.
How we work:
A FTTH project is in the basis like every other project dependent on a solid foundation on which the final product can be based. For good optimization and timely commissioning, we believe in running the extra mile during the starting phase of the project, to save time and costs during later stages.
We will always suggest a small pilot project (approximately 500-1000 FTU) to our customers, to test the network concept, technology and design. Furthermore, with smart phones, tablets and applications like Autocad Mobile and our own ITS-NetProgress, site surveys are easy to perform and many errors in the network design can be corrected before construction.
During each phase of network construction, the appropriate BOM and BOQs can be generated using our FTTH software tools.
For several examples of our work, please visit the Case Studies pages. Contact us via info@itsimplicity for more information about our FTTH network engineering services.