About Us
Based in The Netherlands, Utrecht, Lopik, 3411 MV, Lekdijkwest 33
Contact us for more information: This email address is being protected from spambots. You need JavaScript enabled to view it.
We build FTTH/FTTx on 25 years of experience
For more than 25 years we've focused on providing top level solutions & services to companies & project teams to design, plan, built and manage OSP Telecommunication networks. It is our mission to serve our customers in the best way possible by offering our expertise, smart solutions and services.
Our FTTH/FTTx software network design & planning tools are the products of more than 25 years of experience in designing, engineering, planning, installing and commissioning communication networks by NKF (Nokia / Philips) and Draka (Prysmian Group) and their project offices with local staff. We created easy to use fibre network design & planning software tools featuring complex optimisation algorithms and completed FTTH projects all over the globe.
With our focus on solutions & services and our professional know-how in mind we took over all OSP software tools & solutions, rights and ownerships, from Draka / Prysmian and became an independent company in February 2013.
As ITSimplicity Solutions we continue to offer our know-how to the Telecommunication society. We provide companies with alternative FTTH/FTTx network concepts and calculations, deliver cost optimised network designs with substantial cost savings and continue to support local initiatives in FTTH in rural areas, villages and cities in every possible way.
Our expertise includes: FTTH/FTTx network concepts, designing, engineering, planning and building of: aerial, direct buried and duct networks. Indoor & Outdoor networks. P2P & GPON, programming and engineering in Autocad (Map 3D) and Geographical Information Systems (GIS).
Experience from projects all over the world
Millions of FTU connected; a wide range of services
We do not limit ourselves to FTTx/FTTH projects in Europe; ITS Solutions has references to FTTx projects all over the world. With our experience and software, millions of connections have been established.
Reference (turn-key) projects include high level and low level OSP network designs with: GPON, P2P, direct-buried, duct, micro-duct, aerial, ADSS short-span & long-span, copper cables, optical-fibre cables, industrial complexes, FTTH business cases, special networks for: public transport monitoring, metro/sub-way systems, dishes etc..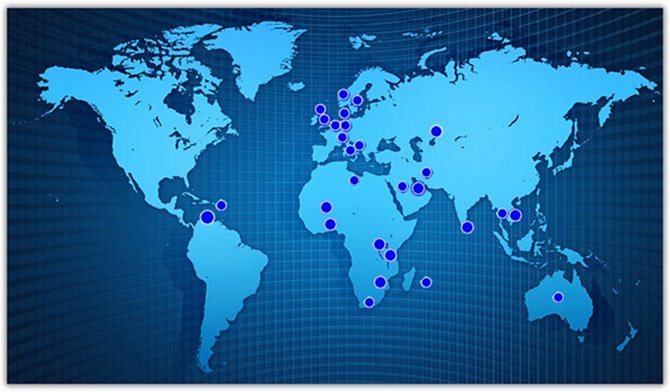 | | | | | | | |
| --- | --- | --- | --- | --- | --- | --- |
| Africa | Asia | Carribbean | Europe | Middle-East | Oceania | South America |
| Ghana | Kazakhstan | Curacao | Croatia | Iran | Australia | Suriname |
| Mali | South Korea | Saint Martin | Denmark | Libya | | |
| Mauritius | Sri Lanka | | England | Qatar | | |
| Rwanda | Thailand | | Germany | Saudi Arabia | | |
| South Africa | Vietnam | | Italy | | | |
| Tanzania | | | Netherlands | | | |
| Zimbabwe | | | Norway | | | |
| | | | Scotland | | | |
| | | | Sweden | | | |
| | | | Switzerland | | | |